Large open-plan working environments or bespoke solutions, created to suit your exact requirements.
At 67m2 it's the largest portable cabin in Europe, easily accommodating 15 people.
The Portakabin Titan building is the largest from of our range of portable cabins, with an unrivalled length of up to 18 metres, a width of over 4 metres, and floor areas of up to 67m2, spacious and flexible work spaces can be created for a wide range of applications.
The unique size of the Portakabin Titan building creates spacious working environments for as many as 15 people, with the flexibility to configure the interior just how you want it.
Why choose the Portakabin Titan building range?
The Portakabin Titan building is the largest self-contained building in Europe and is available for delivery by road as a single unit
Optional floor-to-ceiling fully-glazed wall to enhance aesthetics and boost natural light
Choice of sizes available to suit all requirements, with floor areas of 30m2, 36m2, 45m2, 54m2 and 67m2
Portable buildings can be linked to create larger facilities
Buildings can be connected to existing buildings or installed within existing structures such as warehouses or aircraft hangers
Can be configured to create two-storey accommodation
Delivered ready for immediate use and can be sited within a day
Spacious interiors for flexible layouts, with a width of over 4m and 2.5m ceiling height
Outstanding build quality provides a high-value asset with striking visual appeal
Low-level floor design allows one-step access
British Board of Agrément certified
The size, high-quality, all-steel construction and excellent thermal efficiency of this portable cabin make it the only relocatable building in its class to have achieved independent certification from the British Board of Agrément (BBA).
MORE ABOUT ACCREDITATIONS AND CERTIFICATES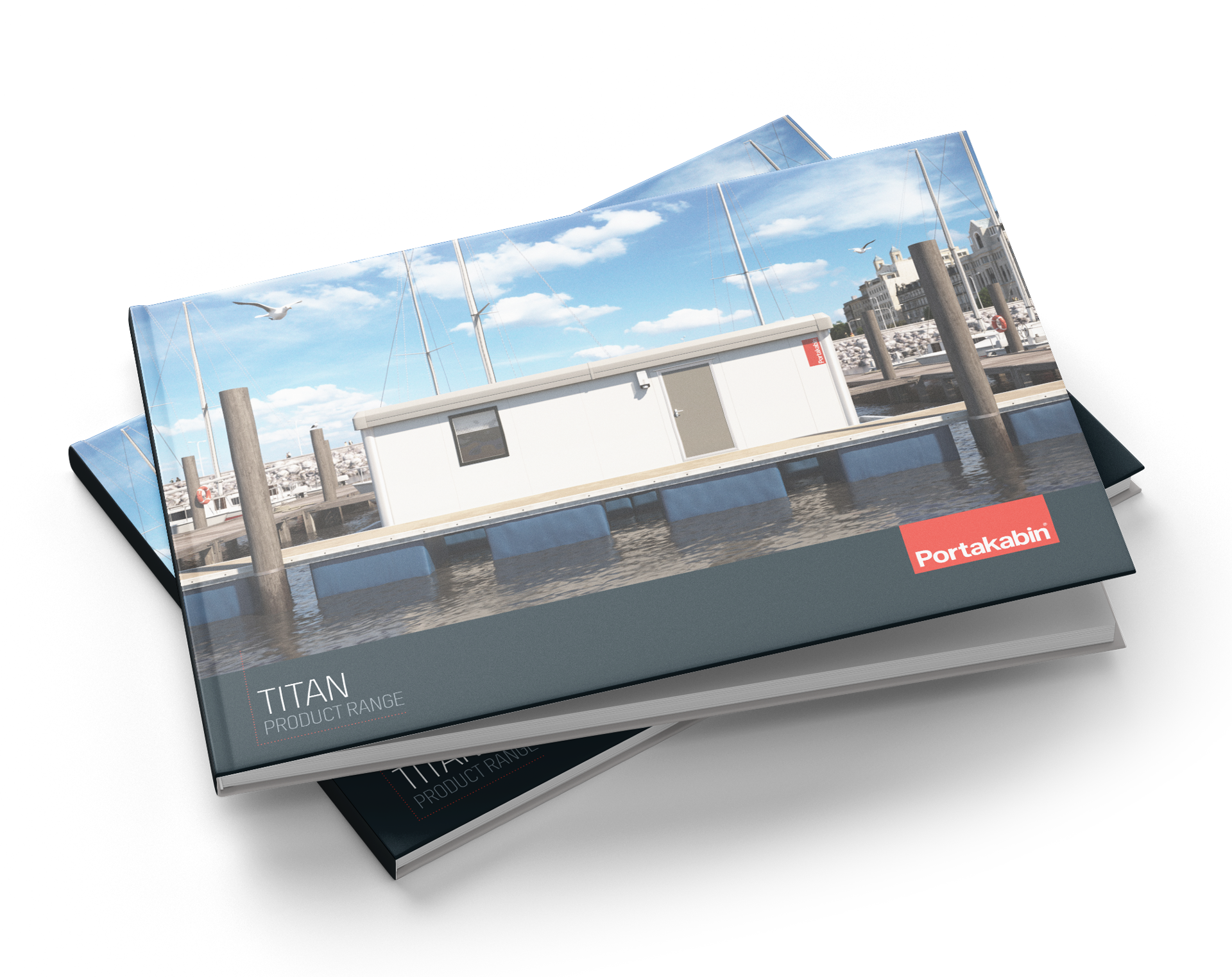 Titan
Titan Building Range Brochure
Download our Titan Building product brochure to see the full range, sizes and specifications.
Portakabin Quality

External walls are a durable, high-performance, low-maintenance, plastisol-coated galvanised steel external wall finish to offer protection against extreme weather and accidental damage

Energy efficient

The roof deck is of an impact resistant, one-piece construction and covered with profiled plastisol-coated galvanised steel to reduce heat gain
Steel-faced doors have an insulating core that minimises heat loss and the anodised aluminium frame also incorporates draughtproof weather seals
The windows have PVC-U frames and are double glazed with low energy glass for optimum thermal performance and effective weather seals minimise draught and condensation problems.
Use our online Visualiser to get started on customising your Portakabin building solution
Building Visualiser
The beauty of the Titan building is that it provides a much better working environment than the other portable building alternatives on the market. The feedback from the people working in them has been, without exception, extremely positive. People find them very spacious, and they appreciate the quality of the build. It's a hard thing to quantify, but I feel certain these buildings have helped to improve our productivity since we started using them.