Large self-contained portable buildings available within one day.
The cost-effective way to create spacious working environments
A Pullman building is a single portable cabin that comes in a range of sizes up to 68m2. The Pullman building, alongside our wider collection of portable cabins, offes versatile accommodation that can be configured just as you need it.
With the Pullman building you have access to an expansive open-plan interior that can be designed to suit a wide range of applications, using partition walls to create individual rooms, corridors and reception areas.
Why choose the Pullman building range?
Value-for-money portable cabins with options to hire buildings or buy refurbished buildings
Self-contained building delivered by lorry - arrives ready for immediate use
At 4.246m they are much wider than standard cabins
Generous floor areas of 36m2, 45m2, 55m2 and 68m2
Buildings can be linked side-by-side or configured to create two-storey complexes
2.5m ceiling height creates a spacious interior environment
Easily located
BBA and Local Authority Building Control certified
The Pullman building has independent certification from the British Board of Agrément (BBA) combined with Local Authority Building Control LANTAC approval so you can be sure that this portable cabin complies with all relevant Building Regulations and Building Standards.
More about Accreditations and Certificates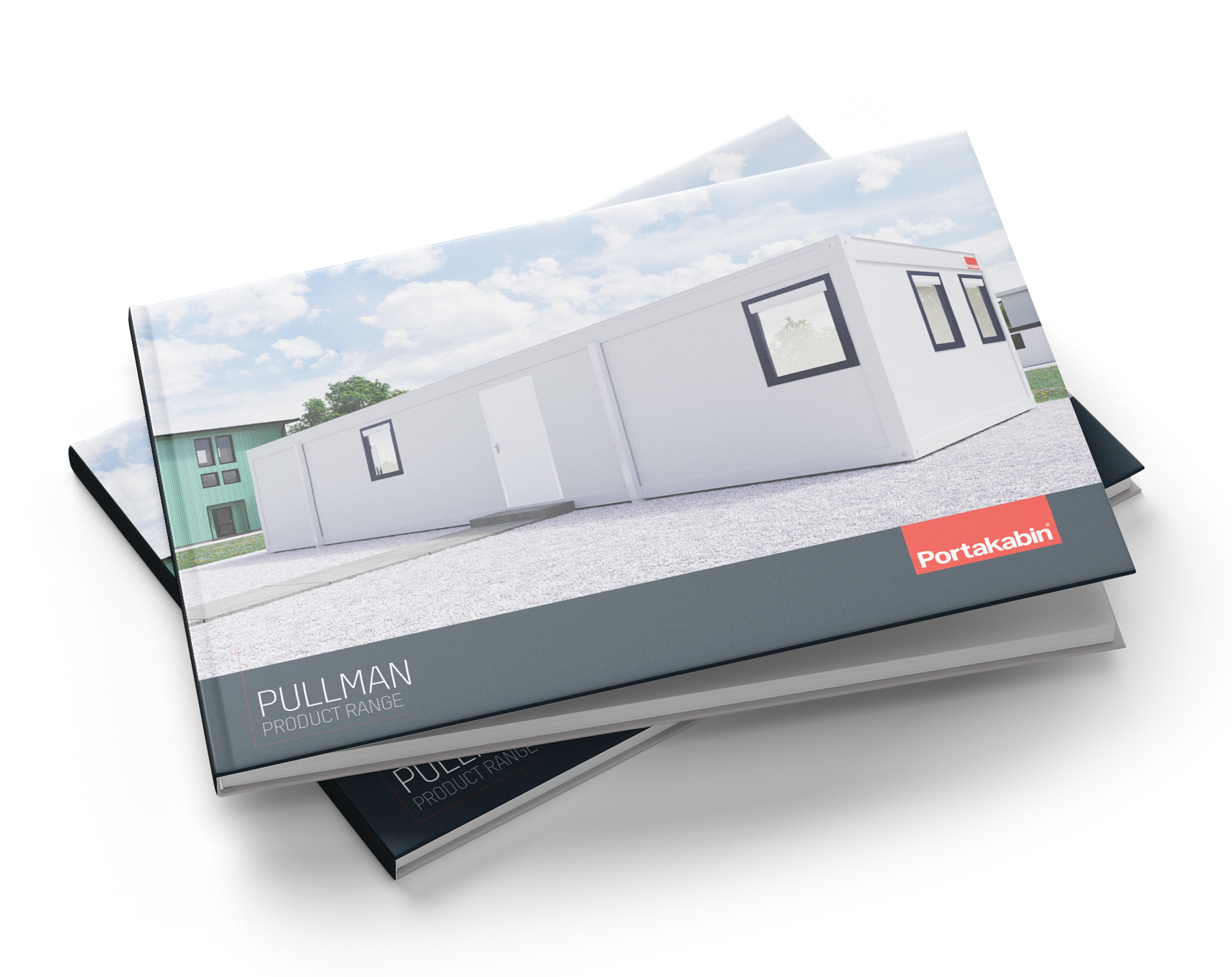 Pullman
Pullman Building Range Brochure
Download our Pullman product brochure to see the full range, sizes and specifications.
Portakabin Quality

Walls are of a tried and tested one-piece construction with no through-joints where failure could occur.
The floor has an all-welded galvanised steel frame which allows buildings to be sited close to the ground. A thermal blanket with heat reflective foil facings provides effective floor insulation.

Anti-vandal and energy efficient

With steel facings and an insulating core avoid seasonal movement and minimize heat loss. Intruder-resistant, anodized aluminium door frames incorporate a thermal break and draughtproof weather seals.
Of a patented "warm deck" construction, with CFC-free polymer insulation, the roof has an impervious polyester coated steel vapour barrier at ceiling level preventing problems associated with interstitial condensation.
Use our online Visualiser to get started on customising your Portakabin building solution
Building Visualiser
Everyone has been very happy with the Portakabin buildings, which are providing excellent office space for our staff. We knew they would be a good solution, since they are so easy to get on site and provide a guaranteed standard of accommodation.