Developed to meet all types of use, Alta buildings are models of compatibility with environmental standards.
Usable ceiling height of 2.75m capable of accommodating all types of equipment required for heating, air conditioning, ventilation, etc., whatever the use.
Floor space based on a solution that assembles 6x3m modules to accommodate 10 to 1,000 people (or more) in ERP and ERT, while meeting the constraints of your site.
Why choose the Portakabin Alta range of buildings?
Flexible dimensions to accommodate as many people as needed
Maximum thermal efficiency, structure designed to meet current and future standards for traditional construction
Ceiling height of 2.75m
Comfortable, welcoming and spacious interiors suitable for all uses
Our modular buildings allow you to create multi-storey buildings to give you total flexibility in the size and configuration of your building
Buildings that can be used in environments with special risks (industrial sites, fire risks, seismic risks, schools, establishments receiving the public, etc.)
Consideration of the environmental impact of the building and its components
The modules can be connected to existing buildings to create fully integrated installations.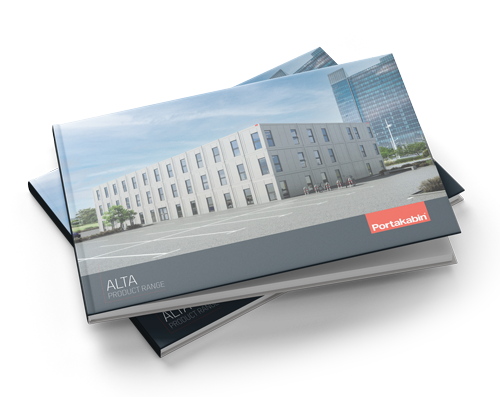 ALTA
Alta building range brochure
Download our Alta buildings brochure for the full range, dimensions and technical specifications
Portakabin quality

The external walls have been designed to ensure compliance with the highest insulation standards and optimum fire protection (A1 materials), consisting of thick insulating rock wool panels protected by 0.6mm sheets. The two-sided pre-coated walls offer a clear, easy-to-maintain finish.


The floor is supported by the steel structure from which it totally insulates the users, the floor of more than 200mm consists of an engineered timber frame covered with a wooden floor, insulated with rock wool and protected by galvanised steel sheets on the underside.

Energy efficiency

In addition to the attention paid to minimising all structural thermal bridges, the walls, floor and roof of Portakabin Alta buildings benefit from mineral insulation materials that guarantee optimal energy efficiency and environmental friendliness.

Compliance with current and future regulations

Portakabin Alta buildings have been specifically designed to ensure the highest level of structural strength in all regulatory aspects. They are designed to meet the requirements of the ISO 9001 quality management system in our production facilities.
Use our online Visualiser to get started on customising your Portakabin building solution
Building Visualiser