Representatives from the Department for Education, Hambleton District Council and Elevate Multi Academy Trust joined Keeble Gateway Academy's staff and children with principal contractor Portakabin on site to celebrate the Academy's first construction milestone.
Guests and parents gathered on the site of the new Keeble Gateway Academy on Friday 31 January to celebrate the first stage of construction. The ground-breaking event was hosted by Elevate Multi Academy Trust, Keeble Gateway being one of their 12 primary Academies, and Portakabin – the principal contractor during the construction of the new school.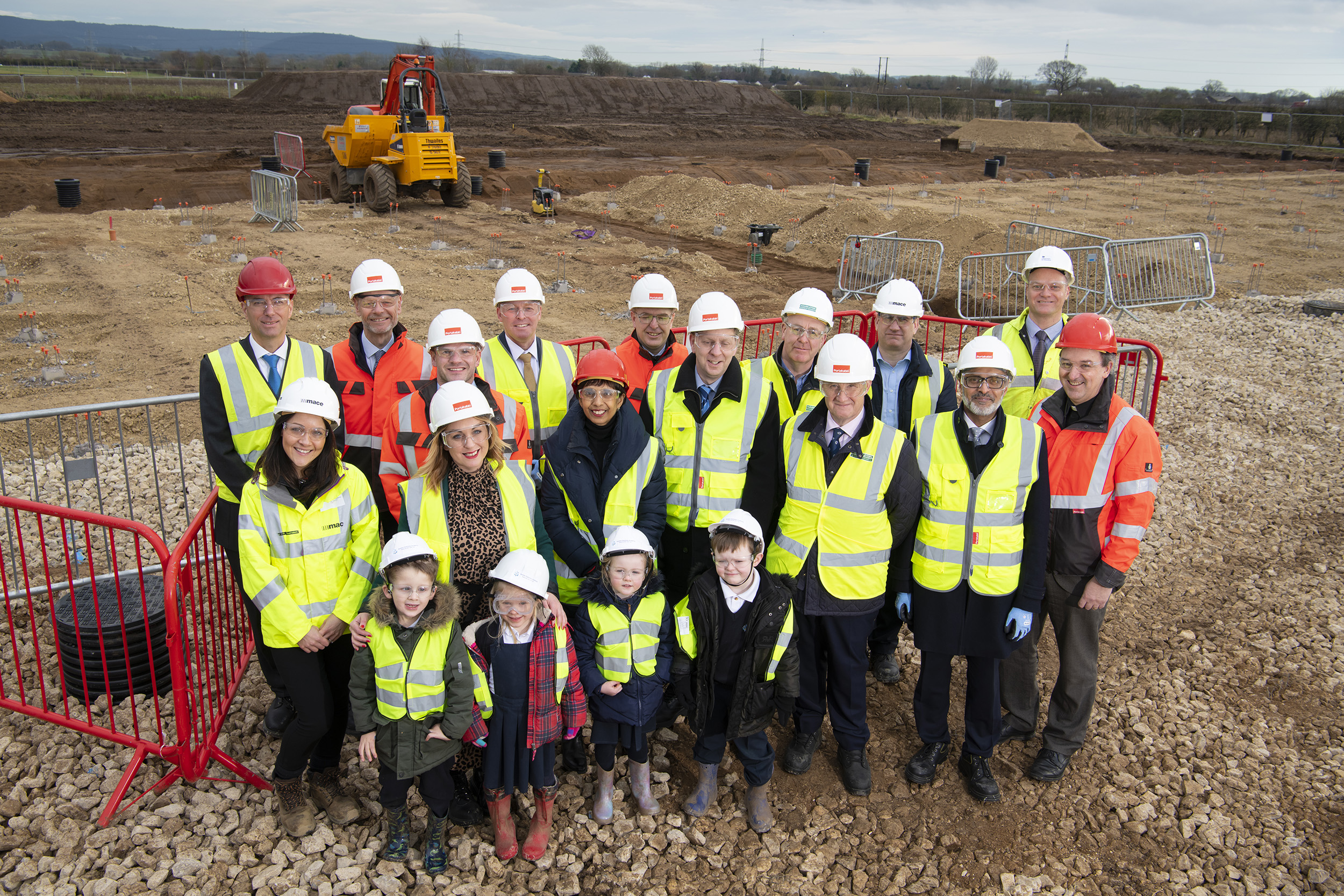 Back row L-R: Doug Davenport (DFE), Nick Griffin (Portakabin), Mike Marsh (Portakabin), Keith Herbert (DFE), Tim Leach (Portakabin),
Councillor Mark Robson (Hambleton District Council), Michael Holding (Mace Group), Adam Jones (DFE)
Middle row L-R: Nicola Hargreaves (Mace Group), Nikkie Beniams (Keeble Gateway Academy), Dame Reena Keeble,
Nigel Ashley (Elevate Multi Academy Trust), Kevin Hollinrake MP, Sajid Lunat (DFE), Reverend Nigel Sinclar.
Front row L-R: Four members of the Keeble Gateway Academy school council.
On completion in autumn 2020, the new building for Keeble Gateway Academy will accommodate up to 210 children from Reception to Year 6, as well as a 26 place nursery. This news has been welcomed by the local community after residential developments in the Thirsk and Sowerby areas have resulted in an increase in pupil numbers.
I am delighted to see work start on the new primary school – one of the main components of the Sowerby Gateway scheme which has created retail, leisure, employment, care provision and more than 900 new homes in the area. We are seeing a vision coming to fruition with the council delivering on its aims and priorities.
The brand-new Academy will include seven classrooms, a nursery playroom, a library, staff offices, age group-specific toilets, a kitchen and a main hall over one storey. With learning and play in mind, the building has been designed to maximise natural light and features a modern and spacious layout.
"Elevate Multi Academy Trust is a family of 12 primary Academies predominantly between Thirsk and Knaresborough. We are really excited to be opening Keeble Gateway Academy which will serve the local community of Sowerby and Thirsk." Said Nigel Ashley, CEO of Elevate Multi Academy Trust.
The construction process, which involves a modular and offsite approach, will be safer and take considerably less time than a traditionally built school. As the groundworks take place on the Academy site, the building blocks – known as modules – are being manufactured and fully fitted out at the Portakabin factory in York. The modules will then be placed together on the Academy site in early spring, with final fixtures and fittings taking place throughout the summer.
Nick Griffin, General Manager for Portakabin comments; "We have worked closely with the Department for Education and Elevate Multi Academy Trust to ensure that the new Keeble Gateway Academy building will meet the children's needs.
"A modular construction approach lends itself well to a project such as this because we have more precise methods. The modules are built in a controlled factory environment and then rigorously tested before reaching the Academy site, so we can ensure Keeble Gateway will be finished to a higher standard than a traditionally constructed building.
"It's a great pleasure to celebrate the first milestone in this project, one which – on completion – will be an important part of the local community."
Elevate Multi Academy Trust was created in 2017 by CEO, Nigel Ashley, formerly a head teacher of a local primary school. Elevate's vision is to develop outstanding local primary practice whilst maintaining each Academy's distinctive ethos, ensuring that children achieve the highest outcomes compared to their peers, nationally. Nikkie Beniams, is executive head teacher over Keeble Gateway and Knayton C of E primary Academy who were deemed outstanding in a recent Ofsted inspection.