Modular construction specialist Portakabin has been awarded the Mental Health First Aid award at the InsideOut Awards on Wednesday 7 June in London.


These annual awards are dedicated to celebrating the organisations and individuals working to transform the mental health agenda within the workplace, creating positive lasting change. Other winners on the night include Santander, Booking.com, Nationwide and Shell.

Nominated in three categories overall, Portakabin is rewriting the parameters of what wellbeing means within an industry previously starved of mental health support.

Judges' comments applauded "A great example of a well-considered and implemented roll-out of MHFA support."

Since introducing MHFA in 2020, the business now has a strong network of 68 Mental Health First Aiders across the UK and Ireland and is continuing its pursuit of creating parity between physical and mental health support.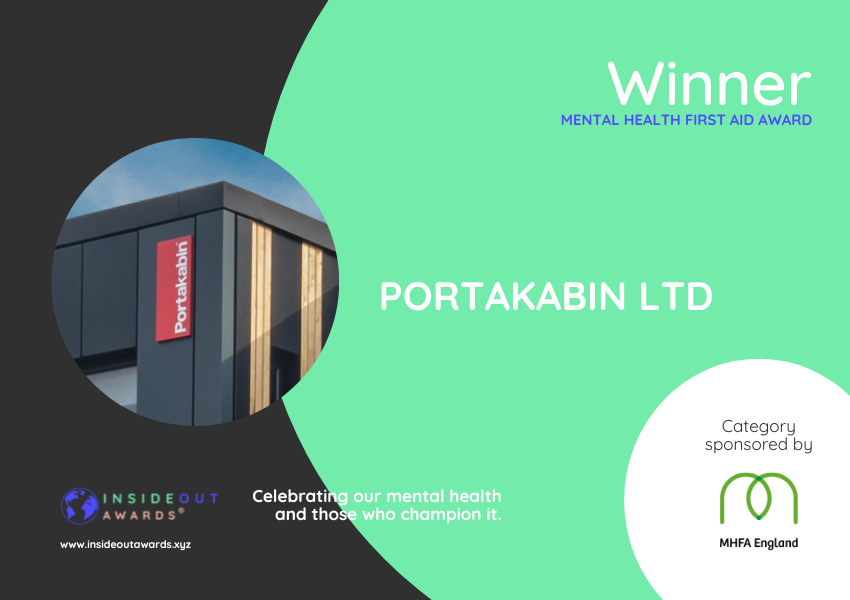 Corina Carney, Health & Wellbeing specialist, comments: "In just three years I have seen our MHFA network grow exponentially. I'm incredibly proud of the network we have built together, with more and more colleagues working to collectively break down the stigma around mental health. This is essential in the construction industry where many barriers remain to speaking openly about mental wellbeing. I'm excited about our future plans, with lots more still to accomplish."

Committed to continuous improvement, Portakabin trains new MHFAs each year, with 15 newly qualified this year.

With a dedicated wellbeing calendar of activities planned for each month of the year, upcoming wellbeing campaigns at Portakabin include imposter syndrome, stress management, grief awareness and much more in the coming months.

Beyond the workplace, Portakabin is also fundraising for The Lighthouse Construction Industry Charity, which is solely dedicated to supporting the mental health of those working within the construction industry.