The Duplex building is a fast, value-for-money route to expansive spaces – for ten to 1,000 people or more.
Whether you need large open-plan offices, spacious reception areas, classrooms, call centres or healthcare facilities – or a combination of these – the Duplex range can be configured to meet your needs.
Why choose the Duplex building range?
Cost-effective, steel framed buildings
Can accommodate any number of people
Provides large, versatile, column-free interior spaces with individual unit sizes ranging from 21m2 to 35m2 and when modules are added together provides unlimited space
2.7m ceiling height creates a spacious working environment
Modules can be connected side by side and in multiple storeys to create buildings of any size
Can be stand alone or linked to existing buildings to create fully integrated facilities
The interior layout is completely customisable for maximum flexibility
Delivered from stock to meet urgent requirements.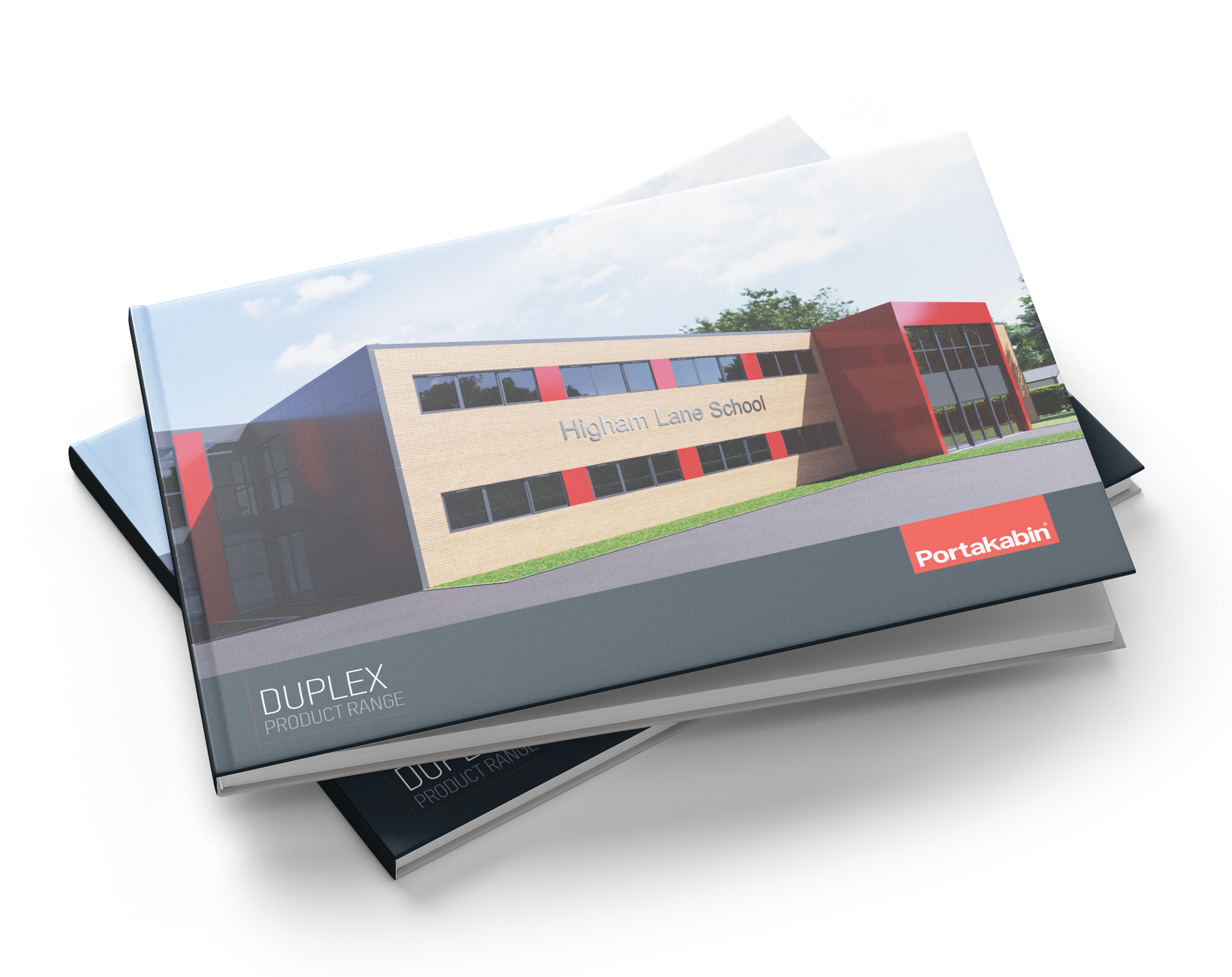 Duplex
Product Brochure
Download our Duplex building brochure to see the full range, sizes and specifications
Portakabin Quality

External walls are of a durable one-piece construction with high-performance, low-maintenance plastisol steel finishes
The patented floor has a rigid galvanised steel frame and underdrawing, which offers a sturdy and robust feel
The roof deck is of one-piece construction, impact resistant and covered with solar-reflective, profiled plastisol steel to reduce heat gain.

Anti-vandal and energy efficient

Duplex buildings also offer protection against theft and vandalism, with a wide range of security options
Walls, doors and roof are insulated with environmentally friendly CFC-free Envirofoam, a rigid polymer insulation material that is lightweight and yet enhances long-life structural strength and ensures an energy-efficient building.
Use our online Visualiser to get started on customising your Portakabin building solution
Building visualiser
The standard of the finished product exceeded all our expectations. As a fee-paying school, the quality of our accommodation is of paramount importance to us and to parents, and many were understandably anxious when they heard that we would be teaching in temporary buildings. Parents were invited to see the new buildings, and they were delighted with the bright, clean and well laid out facilities. Everyone has been really impressed with the quality of the accommodation. Teachers and boys find that the buildings provide very comfortable working environments, which are better than the old facilities that have been demolished.